Why Buyers Love the 2018 Jeep Renegade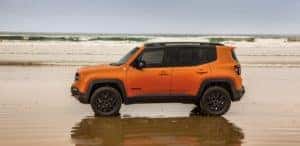 Throughout its entire history, Jeep has been a hugely popular brand. In fact, due to its huge popularity and well-known reputation as a reliable all-terrain vehicle, the generic name for any SUV is, simply, "a Jeep."
Following a long line of legendary models, such as the Wrangler or the Cherokee, the 2018 Jeep Renegade follows in their glorious footsteps and delivers on its promises, offering a pack of great features at an affordable price. Here are some of the great qualities that make the Renegade a great buy.
Amazing Versatility
The Renegade is smaller than any other Jeep but does a fantastic job of turning this into an advantage. True to Jeep tradition, it performs impeccably in off-road conditions and rightfully earns the manufacturer's famous Trail Rated badge.
You can trust your Jeep to make its way through any kind of rough environment, from rocky terrain to muddy, slippery off-road conditions. You can modify the car's parameters so that they match the environment with snow, sand, or mud settings, as well as a special mode that's used when going down steep terrain. All of that, coupled with excellent on-road maneuverability, make this a truly all-purpose vehicle.
Great Safety Features
Also uncommon for its relatively small size, the Renegade's safety features are sure to satisfy its buyers and ensure their safe travels. Plenty of active and passive features have found their way onto this Jeep, among which the most important are front, side, and knee airbags, a rearview camera, and electronic lane-keeping assistance or blind spot monitoring.
"Classic Meets Modern" Looks
The team that designed the Renegade had the very tough task of making this car look and feel like a proper Jeep while also making it look fresh and original. A quick glance makes it obvious that they have succeeded, and the car's popularity is evidence of their success.
The 2018 model looks like the previous one, with a very roomy cabin that feels more spacious than it looks from the outside. It also has many practical features, such as the back seats folding in a few different ways, therefore adding to its cargo space.
An Engine to Match Its Versatility
This Jeep comes with two available engine options, a 2.4-liter, producing 184 horsepower, and a 1.4-liter turbocharged powerplant producing 160 horsepower. They both have the option of operating as either a 2-wheel or 4-wheel drive, so you can instantly turn your Renegade from an economical and enjoyable city ride to an off-road monster that's capable of offering plenty of power at very low revs.
Ever since its launch, the Jeep Renegade has been very popular with car buyers, and for good reason. The 2018 model continues that tradition and duly delivers on its promises of being a car that you can drive to work or the park but can also help you climb impossible terrains in tricky weather conditions. Add the stylish looks and great safety features, and another legendary Jeep model is born.
Image via Jeep: https://www.jeep.com/renegade/gallery.html