Which 2017 Jeep Grand Cherokee is Right for Me?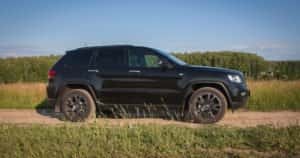 Jeep's SUVs are some of the best available on the market. Jeep consistently improves its designs to outperform the competition. For 2017, Jeep has a long lineup of Grand Cherokee trim options. If you are asking yourself "Which 2017 Jeep Grand Cherokee is right for me?", here's how to tell.
2017 Jeep Grand Cherokee Laredo
The base package is the Grand Cherokee Laredo. It offers a range of performance and safety features that make it great for off-road driving. Compared to other SUVs, its gas mileage is on par. However, it is better than others at handling off-road terrain. There are four color options and several engine upgrades to choose from. The seats are made of durable materials while remaining comfortable and attractive.
2017 Jeep Grand Cherokee Altitude Limited Edition
The Altitude Limited Edition adds several new color options as well as gloss black accents on the wheels and other components. It has Uconnect 8.4 which allows you to control your integrated features as well as connect with the smartphone app. The seats are made of durable scratch-resistant leather for a long lifespan. The Altitude Limited Edition also comes with a powered lift gate to help you get things in and out easily.
2017 Jeep Grand Cherokee Limited
The Limited edition has eight color options and several wheel modifications. The seats can be heated for additional comfort. The Limited gets a major performance upgrade with the Quadra-Trac II system that gives you greater control of different traction options with simple dashboard controls. You'll also get the rear camera system that is great for helping you park or back up safely.
2017 Jeep Grand Cherokee Trailhawk
The Trailhawk gets even more performance upgrades with the Quadra-Drive II 4×4 system that gives you greater control over suspension and traction control options. The Uconnect system gets an upgrade with Off-Road pages that give you easy access to your Cherokee's off-road performance stats. The whole Trailhawk is designed for better off-road performance and system management to keep you safe while in the wilderness.
2017 Jeep Grand Cherokee Overland
Near the top of the trim package list is the Overland which has the most in terms of colors and customizations. It has a new Quadra-Lift Air Suspension system that allows it to get greater ground clearance and provide a smoother ride over rough terrain. The Uconnect system includes navigation features as well. The Overland comes with an enlarged sunroof so that you can watch the sky from the comfort of your own vehicle.
2017 Jeep Grand Cherokee Summit
The Summit edition adds a variety of optional luxury features including an all-leather-wrapped interior, an exclusive exterior design, and a Harman Kardon sound system. The new driver-assist features such as the lane departure system help you stay safe on the road as well.
2017 Jeep Grand Cherokee SRT
At the top of the list is the Grand Cherokee SRT. It focuses on a both luxury and performance. The interior is modeled after racing vehicles and features a stronger brake system. The exterior is redesigned for a unique look among the Cherokee lines. It also comes with a V8 Hemi engine for superior performance.
The Jeep Grand Cherokee is a great vehicle for a combination of performance and luxury. Visit your local dealer today for more information and to test-drive the different model.
https://www.flickr.com/photos/mpetrucho/14627792723/sizes/l
Image via Flickr by Petr Magera