Where to Shop 'Til You Drop in Indianapolis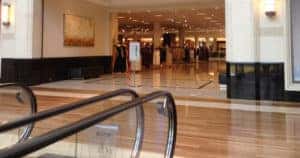 While Indianapolis is well-known for hosting the Indy 500 and being the home of the Indianapolis Colts, there's plenty of other attractions for those who aren't as sports-minded. One way to pass the time is by shopping in the area's many retail districts. Next time you're looking to get some bargains in Indy, try stopping by one of these great destinations.
Circle Centre Mall
Stop by the Circle CentreMall to enjoy shopping at more than 100 different stores. This mall's convenient location in downtown Indy just south of Monument Circle makes it easily walkable if you're staying in the area. You'll definitely want to stop by the anchor store Carson Pirie Scott as well as check out some of the other fine retailers, including Banana Republic, H&M, Carson's, and Lucky Brand. With 12 hotels and the Indianapolis Convention Center connected to the mall by skybridges, it's also a great place for sightseeing.
The Fashion Mall at Keystone
For a luxury shopping experience, The Fashion Mall at Keystone is your first stop. Located at 8702 Keystone Crossing, it's in the heart of the Indy metro area. Here, you'll be able to browse the goods from Kate Spade New York, BCBGMAXAZRIA, Nordstrom, Saks Fifth Avenue, and more upscale vendors. If you tire yourself out with a day of shopping, simply stop over at the attached Sheraton Indianapolis Hotel at Keystone Crossing.
Fountain Square
If big chain stores aren't your style, you'll love the unique and funky vibe of Fountain Square. This small community is located just southeast of downtown and features a number of local vendors sending musical instruments, clothing, flowers, comics, and anything else you can dream up. Stop by Arthur's Music Store, Square Cat Vinyl, or Indy String Theory for all of your musical needs.
Castleton Square
Quite the opposite of Fountain Square is Castleton Square, the largest mall in the state of Indiana. Situated on 6020 E 82nd St, it is home to four major department stores as well as 130 smaller stores. Your kids can chill at the play area while you peruse Victoria's Secret, Loft, Finish Line, Macy's, and many more. If you need a break as well, stop in to the 14-screen AMC theater to catch the latest flicks.
Mass Ave
Another quirky neighborhood that showcases Indianapolis's unique side, Mass Ave boasts being the home of the nation's oldest shoe store, Stout's Footware. However, there's plenty more here for people of all tastes. Explore the entire avenue from the intersection of New York and Delaware Streets to the beginning of Bellefontaine Street to catch all the action. You might stop in at Silver in the City, Sage, Pumkinfish, Decorate, City Dogs Grocery, and many more.
These are just a few of the major shopping areas in Indianapolis. When planning your shopping itinerary, these places should definitely be on your list. Don't forget to add Eastgate Chrysler Dodge JeepRam to your list as well, as we offer a number of great new and used vehicles perfect for holding all of your shopping bags.
https://www.flickr.com/photos/10542402@N06/7266230668/sizes/l
Image via Flickr by MikeKalasnik