What Should I Keep in my Auto Emergency Kit?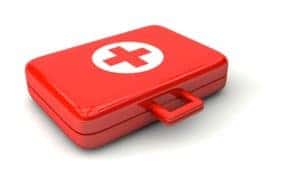 Winter is no longer coming — winter is here, making driving conditions risky and difficult at times. Since Indianapolis is no stranger to freezing rain, sleet, and sometimes snow, it is important that all drivers keep emergency kits in their cars. To better protect yourself and your family this winter, here are the items you must keep in your auto emergency kit at all times.
Emergency Basics
Not only in the wintertime is it important to keep the following items in your vehicle, but you should consider keeping basic emergency gear in your car year-round. These emergency basics can include a first aid kit, a flashlight and batteries, a small tool kit, jumper cables, and the tools needed to change a tire. You can find many pre-made car kits that include these items.
To winterize your emergency basics kit, you can consider adding a foldable shovel, a bag of cat litter or sand, road flares, and tire chains. All of these items could help you in dire conditions when the winter weather is at its worst. The shovel and litter/sand could get your tires out of an icy rut, and the road flares and chains can help keep you safe in emergency driving situations.
Protecting Your Vehicle
There are measures you can take to ensure you have the proper tools to protect your vehicle, as well. You can keep a can for getting gas in your car, as well as extra quarts of oil, windshield wiper fluid, and antifreeze. For the wintertime, you should also consider keeping an ice scraper in the vehicle and a soft-bristled brush for removing snow and ice from your car before driving.
In addition to your car safety kit, be sure to have your car serviced before the worst of winter hits so that you can rest assured your vehicle is running properly.
Prolonged Delays
Though we like to think it'll never happen, it does. Sometimes winter storms hit when we least expect them, leaving drivers stranded. Your auto emergency kit can help you be prepared for these rare incidents. Add a blanket, bottled water or energy drinks, and non-perishable food to your car kit.
Gloves, a hat, hand warmers, and extra socks could also be good additions. If you have small children, pack a few games to keep them entertained during delays. Be sure to have a battery-powered cell phone charger with you, too, so that you can stay charged up even if your car's battery dies.
Thinking Ahead
If you're traveling during the winter weather, it never hurts to think ahead. Include a small bag of toiletries and a change of clothes in your emergency kit. This way, if you have to make an unexpected stop or stay an extra night where you are because of the weather, you are aptly prepared.
This list can seem daunting, but it's better to be safe than sorry. As always, check road conditions before you head out this winter, and be sure to drive as cautiously as possible.
Image via Pixabay: https://pixabay.com/en/doctor-luggage-verbandszeug-patch-1015624/