What Makes the 2019 Jeep Cherokee a Hot Item?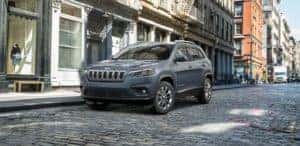 Since its return in 2014, the Jeep Grand Cherokee has been a favorite among Jeep and SUV owners. Its mix of performance, looks, cargo space, and off-road capabilities make it a great choice for just about anyone looking to purchase an SUV. Let's look at some of the reasons the Jeep Cherokee is one of the hottest vehicle models of 2019.
Unparalleled Performance
The Cherokee's V-6 engine has an impressive 4,500-pound towing capacity. There is also a four-cylinder engine option, but it has less towing capabilities than the larger engine. The Cherokee is fairly fuel-efficient for its class, with up to 29 mpg on the highway. The nine-speed automatic transmission handles driving situations well and allows for better fuel efficiency.
When it comes to off-road capabilities, the Cherokee ranks among the best for compact SUVs. It also has impressive braking features and a suspension that creates a smooth ride even on the bumpiest of roads. Another thing people love about the Cherokee is its ability to handle corners with relative ease.
Store What You Need With the Cherokee's Cargo Capacity
Like many compact SUVs, cargo space is significantly better than four-door sedans, but some compacts are a little more cramped than others. The Cherokee's main cargo area can hold roughly seven pieces of carry-on luggage or 18 pieces with both of the rear seats folded down. If you have a third passenger, the seats fold in a 60/40 configuration, so there's no need to worry about sacrificing storage for an extra passenger. It sure beats having to cram the stroller into the passenger seating area.
Entertainment and Infotainment Features
Being on the road for a long time can be tough without the proper entertainment. The Cherokee comes equipped with the highly regarded Uconnect infotainment system, in addition to Apple CarPlay and Android Auto connectivity.
The Cherokee will also keep everyone's devices charged with plenty of 12-volt and USB outlets in the front and rear seats. There is also a third 12-volt outlet in the cargo area, allowing you to plug in a radio while camping.
A Full Suite of Safety Features
Drivers love knowing about all the new safety technology being unveiled every year. The Cherokee has the option to add just about every safety and driver assist feature available today. Things like lane keep assistance, blind spot monitoring, automated front braking, self-parking, and adaptive cruise control are all options for several 2019 Jeep Cherokee trims.
There are also several subtle features that help the driver stay safe while operating their vehicle. For example, the volume of your music will lower while the car is in reverse, allowing the driver to focus on the task at hand.
As the Cherokee leads the pack in several compact SUV categories, it's no wonder everyone is excited about the 2019 model release. Be sure to check out our inventory of 2019 Jeep Cherokees or stop by Eastgate Chrysler Dodge Jeep Ram to learn more about this amazing Jeep.
Image via Jeep: https://www.jeep.com/cherokee/gallery.html