What Is the Jeep Gladiator?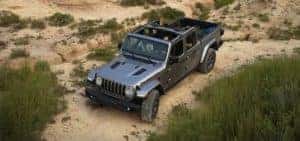 While we are still getting used to the 2019 Jeep lineup, it may seem too far off to evaluate what 2020 will bring. Yet, many Jeep enthusiasts are patiently awaiting the highly anticipated release of the 2020 Jeep Gladiator. This is what we know about the 2020 Jeep Gladiator so far.
Jeeps' First Pickup Truck
Not only will the 2020 Jeep Gladiator be Jeep's first pickup truck, but it will also be the only open-air pickup truck available in the market. Gladiator drivers will enjoy the towing and payload advantages of the pickup truck while also enjoying the wind-in-the-hair experience that has become synonymous with Jeep. You don't have to see a photograph of the 2020 Gladiator to imagine what it might look like. It perfectly captures the expectation of a mid-size truck paired with the iconic Jeep design.
What makes it unique is the ability to remove the cover for a completely open truck driving experience. The Gladiator will be available in four exterior trim levels which include Sport, Sport S, Overland, and Rubicon. The five-foot steel bed not only presents the utility of a Jeep-designed pickup truck but it also offers a level of productivity that will be hard to compete with. The entire body is protected with a steel rear bumper, an available steel front bumper, and removable end caps.
Impressive Capability
Jeep is certainly no stranger to capability. Jeep vehicles are often a top choice when planning an off-roading adventure. So, it is no surprise that the 2020 Jeep Gladiator will also offer impressive versatility. With a 7,650-pound towing ability and a 1,600-pound payload, you can easily handle all your towing and hauling needs.
The Gladiator will be powered with a 3.6-liter Pentastar V-6 engine for 285 horsepower. Drivers may also be able to opt for the 3.0-liter EcoDiesel engine. This setup will also include an available six-speed manual transmission, giving truck drivers a manual option. This 4×4 capable mid-size truck will also include heavy front and rear axles, an electronic sway bar, an off-roading camera, a five-link coil suspension system, and 33-inch all-terrain tires.
Modern Interior
We can only imagine what the year 2020 will bring in terms of technological advancements. However, Jeep has already implemented modern technologies into the interior of the Jeep Gladiator. It will feature an 8.4-inch touch-screen driver infotainment system with 4C Uconnect NAV. Drivers will have the ability to sync their smartphone via Apple CarPlay or Android Auto for hands-free calling, texting, and turn-by-turn navigation. The front camera system gives you full visibility of the road ahead, displayed conveniently on the touch screen.
Drivers can also upgrade to an available removable Bluetooth wireless speaker. Additionally, the interior of the Gladiator will feature ample storage with compartments for your most important cargo. Safety features will include blind spot monitoring, adaptive cruise control, and lane keep assist.
Jeep recently premiered its first pickup truck at the Los Angeles Auto Show. While you cannot yet purchase the 2020 Jeep Gladiator, you can come by Eastgate Chrysler Dodge Jeep Ram today to check out the full 2019 Jeep line up.
Image via Jeep: https://www.jeep.com/gladiator.html