Top 3 Indianapolis Steakhouses to Try This Weekend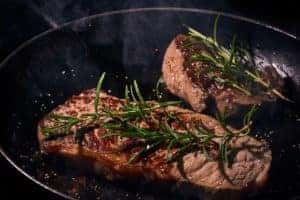 Carnivores will not have a beef with Indianapolis — this city is loaded with steakhouses. Its world-class restaurants are grilling up exactly what you're craving, from a prime tenderloin to a thick and juicy Porterhouse. Pick from local institutions like St. Elmo to national favorites like The Capital Grille. Here are three of our must-try favorites where you can feast on your favorite slab of meat.
Fogo de Chão
Fogo de Chão, at 117 E. Washington St., offers guests a unique and exotic Brazilian dining experience. Here you can experience a real culinary adventure in addition to a live performance. Sit back and relax in this elegantly decorated dining room while you enjoy prime cuts prepared in the centuries-old churrasco tradition of roasting the meat over pits of open flame.
This place is abuzz with servers called "gauchos" who deliver long skewers of roasted meat on demand. The festive steakhouse features a dinner menu with 15 different cuts of beef, pork, chicken, and lamb. There's a delectable buffet loaded with gourmet salads. Help yourself to plenty of traditional side dishes such as seasoned mashed potatoes and warm cheese bread.
Order a glass of wine from Fogo's award-winning wine list, or sample a traditional Brazilian beverage. Finish your steak dinner with a rich, decadent dessert like fried bananas.
St. Elmo Steak House
Anyone who's anyone in the Indianapolis area has visited this mainstay Indianapolis restaurant. Founded in 1902 by Joe Stahr, it still sits in its original location at 127 S. Illinois St. This downtown landmark boasts the tiger oak bar from the 1893 Chicago World's Fair and has earned a century's-long, national reputation for its exceptional food, drink, and service. In addition to a menu filled with savory steaks, St. Elmo has a 20,000-bottle wine cellar.
St. Elmo highly recommends that you make reservations, as this restaurant's list of awards range from the James Beard Foundation's recognition as one of America's 2012 Classics to one of Forbes' "10 Great Classic Restaurants Well Worth Visiting." The Travel Channel described St. Elmo's diabolical signature shrimp cocktail as "the world's spiciest food." The restaurant's only appetizer, this shrimp dish is smothered in a zesty cocktail sauce made fresh daily with house-ground horseradish.
Sullivan's Steakhouse
Sullivan's, located near the Fashion Mall of Keystone on 3316 E. 86th St., is a dark wood refuge where cool piano jazz forms the backdrop for a world-class steakhouse. Make your reservation today at this truly unique Indianapolis restaurant. Flirt with new flavors in an atmosphere designed for an unforgettable night, and enjoy a cigar after dinner.
Order the bone-in ribeye in a 22-ounce cowboy cut, and don't forget to enhance the experience with your choice of seasoning such as Béarnaise or Sullivan's house steak sauce. Steaks at Sullivan's are aged for a minimum of 28 days, and the martinis are shaken, not stirred. Desserts are made fresh daily.
Indianapolis is home to some of the best steakhouses in Indiana. For a great dining experience, make sure to try one of these top Indy restaurants.
Image via Pixabay: https://pixabay.com/photos/steak-pan-rosemary-food-meat-beef-3766548/