Top 3 Day Trips from Indy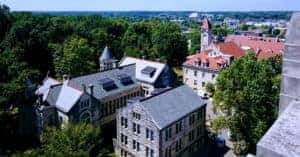 Located in the heart of the Midwest, Indianapolis is a fine town for tourists and locals, but even if you love the city, it's nice to take a break from it every now and then. Fortunately, the location of Indianapolis lends itself to plenty of day trip ideas that are fun and exciting for people of all interests. The next time you're in the mood to do a little traveling or just get out of town for a day, check out a few of these day trips from Indy.
Bloomington
Located off Indiana State Road 37 just 50 miles southwest of Indianapolis, Bloomington is primarily known as the home of Indiana University. From August to May, the town comes to life with nearly 50,000 students, creating an atmosphere like few others. During this time, the bars and nightlife are hopping, while Hoosier basketball and football become the focal point of conversation.
Bloomington also has tons of events and festivals throughout the year that are worth the journey. Don't miss out on annual spectacles such as the Taste of Bloomington, the Limestone Comedy Festival, and the Lotus World Music and Arts Festival.
Columbus
Head south on I-65 for about 45 miles and you'll eventually run into the town of Columbus, home to nearly 47,000 residents. Although Columbus may seem like your average Midwestern town, it's a surprising mecca of art and architecture. Ranked sixth in the U.S. for architectural innovation and design, Columbus is a hidden gem that's a must-visit for art and building lovers.
While you can meander throughout the city to find some of its architectural treats, a tour may save you some time and give you interesting information on how the city became an architectural masterpiece. On the Indiana Architecture Tour Bus, you can see over 40 buildings by the likes of I.M Pei, Eero Saarinen, Kevin Roche, and more. There's really no other place like it in the Midwest outside of major cities.
Holiday World & Splashin' Safari
When the weather's nice and you want to cool down in a water park or careen through the air on a roller coaster, head to Holiday World & Splashin' Safari in Santa Claus, about three hours southwest of Indianapolis. Originally built as a Christmas theme park, Holiday World expanded in the 1980s to include themed areas based on various holidays throughout the world. With 51 rides, five roller coasters, two water rides, and a massive water park, few other places can rival the fun and excitement of Holiday World.
Throughout the year, the park has many special entertainment offerings, as well as holiday-themed events. Despite its size, Holiday World is often recognized as the best theme park in the country, garnering a record 51 Golden Ticket Awards. If you have the chance, ride the Wildebeest. With seven drops at 45-degree angles and a top speed of 25 mph, the Wildebeest has won the Golden Ticket for best water coaster eight years in a row.
With so many day trip opportunities, the hardest part is not deciding when to go, but where to go. If you can free up the time, you may as well try them all.
https://www.flickr.com/photos/rschiang/35809956763/sizes/l
Image via Flickr by RSChiang