The 4 Best Places to See Fall Foliage in Indiana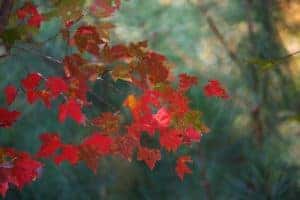 In fall, the bright yellows and golds of tulip poplars and redbuds make the forest canopy and roadsides beautiful. You can also enjoy the red colors of blackgum and sumac leaves and the burnt orange from maples and sassafrass. Fall flowers include yellow black-eyed susans, goldenrod, and purple ironweed. Farms offer their own beauty with fall crops like corn and pumpkins. You can see fall foliage anytime from late September to early November. The best time to see the scenery varies with the weather and the location. Here are some of the best places to enjoy fall in Indiana.
1. Hoosier National Forest
Hoosier National Forest is in south central Indiana. It offers rolling hills, back-country trails, and beautiful rural communities. You can go fishing, hunting, hiking, camping, canoeing, horseback riding, or mountain biking while you look at the fall scenery. Visit Buzzard Roost for a picnic with scenic views from the bluffs of the Ohio River. A short trail winds along the cliff face and down to the river through steep terrain. Picnic tables are available, and there are benches along the trail.
Hickory Ridge Lookout Tower was constructed in 1939 to help people watch for forest fires. Today it's on the National Historic Lookout Register, and you can climb it for a panoramic view of the forest and nearby Lake Monroe.
2. Ohio River Scenic Byway
Ohio River Scenic Byway in southern Indiana is 302 miles long, and you can explore for a few miles or travel the entire route. Most of the road is along the Ohio River, so you can enjoy beautiful views in winter, spring, and summer as well as fall. You can also shop at antique shops and farmer's markets along the way, tour historic sites, and have fun at a casino.
3. Brown County State Park
People call Brown County the Little Smokies because it looks like the Great Smoky Mountains. Both places are known for their amazing fall foliage. Brown County State Park is the largest state park in Indiana, with almost 20 miles of tree-lined roads and several scenic vistas. Climb the 90-foot Fire Tower for a breathtaking view. You can also watch a sunrise or sunset and visit the nature center to see animals up close, including the endangered timber rattlesnake. The park's rustic Abe Martin Lodge even has an indoor water park.
4. White River Gardens
White River Gardens in Indianapolis has three acres of beautiful gardens. The Family Nature Center is designed for children and their families, and it highlights Indiana habitats and wildlife. You can also explore the DeHaan Tiergarten gardens. The plants on display change with the seasons, and you can see beautiful flowers and colorful foliage in fall. The Hilbert Conservatory greenhouse displays tropical plants and flowers all year, and there's a mezzanine level so you can view the gardens from above. Admission to the Indianapolis Zoo next door is free when you visit White River Gardens.
Visitors can experience fall in Indiana with a relaxing drive or an outdoor adventure. Everyone should enjoy these beautiful places.
Image via Pixabay: https://pixabay.com/en/maple-leaves-fall-autumn-red-tree-62759/