The 4 Best Burgers in Indy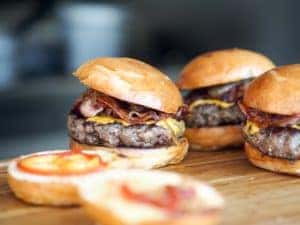 If you are headed to the Indy area and looking to bite down into a delicious, juicy burger, there are plenty of places you can go. While each burger place has a unique cooking style and their own take on this classic, some are just better than others. Here are the best burgers in Indy.
The Mug
The Mug, located on S. Audubon Road in Indianapolis, was voted best burger in Indy by diners. They get their meat from local farmers and make their burgers fresh every day. Their farm-to-curb concept allows customers to drive up to the restaurant and one of the Mug Hops will deliver your food right to the car. They also offer kids meals and fresh-made hot dogs.
Bru Burger Bar
On Massachusetts Ave. in Indianapolis you'll find the Bru Burger Bar. They offer several bistro style burgers such as the garlic three cheeseburger or the lamb burger. You can also get the Provencal which comes with basil aioli, red onion jam, and herbed goat cheese topped with sauteed mushrooms. If you want the classic cheeseburger, they have that too, and you can get it with a side of fries and their house-made ketchup. Bru Burger Bar also has a gluten-free menu, and you can substitute chicken breast, a veggie burger, or a turkey burger for any of their menu items.
Between the Bun
If you are looking for something new to wake up your taste buds, try the It's Nacho Burger at Between the Bun. This comes with a juicy burger topped with jalapenos, cheddar jack cheese, spicy sour cream, and then to top it off, Doritos on top. They marinate the beef patty in a secret mix of herbs and spices, and you should definitely get it medium-well. They also have the liberty bell burger which is a burger's take on a Philly cheese sub, or the Route 66 with BBQ sauce, bacon, and cheddar.  You'll find Between the Bun on S. Madison Ave. in Greenwood, and they are open for lunch and dinner from Tuesday through Sunday.
B Spot Burgers
Get a combination burger and pulled pork sandwich when you order the Porky at B Spot Burgers. This starts with a big burger, but then they top it with some shredded barbecue pork, cole slaw, and their special coffee-barbeque sauce. You can also try the Fat Doug. They top this burger with coleslaw, pastrami, stadium mustard, and swiss cheese. The Indianapolis location of B Spot is on E 86th Street, and they serve both lunch and dinner seven days a week. If you want something other than a burger, B Spot also serves brats and thick cut bologna, or you can get one of their big salads.
Try one of these places the next time you are in Indianapolis if you are craving a big juicy burger. Whether you want to try some new and unusual topping or stick with the classics, these burger places will serve it up hot and juicy.
Image via Pixabay: https://pixabay.com/en/burger-fast-food-hamburger-731298/