Popular Indy Pizza Joints You Have to Try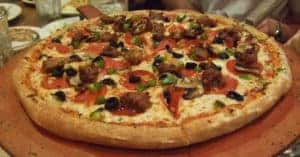 Pizza is the quintessential comfort food. With its gooey cheese, rich tomato sauce, and whatever toppings you want to be slathered on top of a delicious crust, there isn't much not to love. If you are in the Indianapolis area, here are some of the most popular pizza restaurants that you will want to try.
Bazbeaux Pizza
Bazbeaux Pizza is located at 333 Massachusetts Avenue. It is known for its artisan style pizza and its award-winning garlic. Despite its notoriety, this restaurant keeps its prices very affordable, which makes it an ideal restaurant for a quick lunch or dinner. The restaurant is open from 11 a.m. to at least 10 p.m. every night of the week. Local fans of Bazbeaux Pizza constantly rave about the Pizza Alla Quattro Formaggio with blue cheese, gruyere cheese, mozzarella, and parmesan. 
Goodfellas Pizzeria
Located down the street from Bazbeaux Pizza at 545 Massachusetts Avenue, Goodfellas Pizzeria is an extremely affordable pizza restaurant known for its late night hours. The restaurant is open from 11 a.m. to 12 a.m. from Sunday to Wednesday. On Thursdays, Fridays, and Saturdays the restaurant is open until 3 a.m., so it is almost always available when your pizza cravings strike. At the back of the pizzeria, you can find a full bar at the Wise Guy Lounge, where you can enjoy your pizza in a laid-back atmosphere. On Mondays, Goodfellas Pizzeria offers half off 12-inch pizzas.
Jockamo Upper Crust Pizza
Jockamo Upper Crust Pizza is located at 5646 East Washington Street. It is a great place to enjoy a full Italian meal complete with breadsticks, salads, and pizza. If you want, order the creamy parmesan dipping sauce to take your breadsticks to the next level. It is open from 11 a.m. to 10 p.m. Sunday through Thursday, and 11 a.m. to 11 p.m. on Friday and Saturday. The salads are large and unique. If you're visiting with who didn't want to dine pizza, they would be very content to eat one of Jockamo Upper Crust Pizza's many tasty salads, such as the Health Nut Salad, while you enjoy a hot slice.
Pearl Street Pizzeria & Pub
If you want to drink craft beer or your favorite cocktails with your pizza, head over to the Pearl Street Pizzeria & Pub. It is located at 65 East Pearl Street in the Wholesale District. It is close to Bankers Life Fieldhouse and the Circle, so it is an ideal location to visit before you attend larger events at one of these venues. The restaurant is open from 11 a.m. to 3 a.m. most days, opening later at noon on the weekends. For something different, consider ordering the cheesy breadsticks, Caprese crostini, or a honey chicken pizza. All of these menu options fans frequently rave about.
There are so many restaurants that serve pizza, but there are not enough of them that serve great pizza. These four pizzerias serve up some of the best pizza in Indy and are worth checking out.
https://www.flickr.com/photos/tineyho/2958729968/sizes/l
Image via Flickr by TineyHo