Must See Historical Landmarks in Indianapolis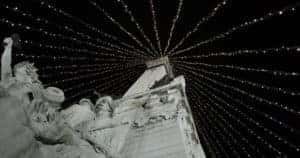 For history buffs in the Midwest, there's arguably no better city to explore than Indianapolis. Here you'll find numerous historic locations, from a former president's home to war memorials, monuments, and iconic structures. Here are six historic landmarks people need to see in Indianapolis.
Benjamin Harrison Presidential Site
Benjamin Harrison served as the 23rd President of the United States. Today, the Benjamin Harrison Presidential Site in Indianapolis stands as a property where you can learn about the life, art, and culture of this nation's leader. The historic site is located at 1230 N. Delaware St. and is open daily (except Sundays) from 10 to 3:30 p.m. Stop by to take a tour or listen to a guest speaker share their knowledge about the building's unique collection
Indianapolis Catacombs
Interested in some spookier history? You can explore a system of catacombs hidden beneath City Market's Whistler Plaza. Take a tour to explore the architecture and learn more about the role that these catacombs have played in the city's history. Tours are available on the 1st and 3rd Saturdays from May to October (except for July, when tours are on the 2nd and 4th Saturdays). The 30-minute tours depart from 222 E. Market St. from 11 to 1 p.m.
Indiana War Memorial
The Indiana War Memorial was built in 1924 in memory of the veterans of World War I. A museum, three parks, and numerous monuments and statues are here, so you can easily spend an entire afternoon honoring veterans of the United States' military and learning more about their sacrifices. You can visit inside from 9 to 5 p.m. Wednesday through Sunday.
Hannah House
The Hannah House is a historic Italian-style mansion at 3801 Madison Ave. near the downtown area. The house was built in 1858 and served as a part of the Underground Railroad. Attend a tour to learn more about the property and the role it played throughout Indianapolis' history. There's also some ghostly lore surrounding the structure, which you can experience first-hand if you stop by for a haunted tour.
Soldiers and Sailors Monument
The Soldiers and Sailors Monument is an iconic structure in downtown Indianapolis at 1 Monument Circle. Erected in 1902, this monument was built to honor soldiers from Indiana who served in the Revolutionary War, the War of 1812, the Civil War, and other conflicts. The observation level gives guests an incredible view of the downtown skyline. You can visit the gift shop and observation level from 10:30 to 5:30 p.m. Wednesday through Sunday.
McCormick's Rock
McCormick's Rock is a historical landmark of significant value to Indianapolis. The rock has a bronze plate commemorating the cabin of John McCormick, who was one of the first settlers in the state. A meeting was held in his home to pick a location for the state's capital. Visit this landmark on the White River Trail to celebrate the city's roots.
Indianapolis is full of some incredible history. Remember these historic landmarks and memorials the next time you're in the downtown area.
https://www.flickr.com/photos/sergemelki/3091376521/sizes/l
Image via Flickr by Serge Melki