Luxury Features to Love on the New 2018 Chrysler 300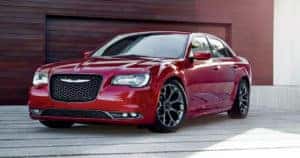 The Chrysler 300 is affectionately known as a living legend. As one of the flagship vehicles in the automaker's lineup, the 2018 Chrysler 300 is a large sedan that both looks and feels cool with luxurious touches. Here are several features you're bound to love in this latest iteration of an iconic vehicle.
The Roomy Interior
The Chrysler 300's elegantly shaped exterior gives way to a thoughtfully designed and spacious interior. As designed, it fits five people comfortably with three people able to sit in the back. The 2018 base 300 model comes with cloth seats. Other higher trim models come with a leather seat option. No matter which upholstery you choose, the 2018 Chrysler 300 has comfortable seating with a reasonable amount of legroom.
In addition to spacious and comfortable seating, the vehicle also features a generously sized trunk with room to store everything from luggage to car maintenance tools. Storage doesn't end there. Multiple decently sized cupholders are available throughout the car with additional bottle holders in the doors. There's also a storage bin in front of the rotary shifter.
Details
A car's trim often goes overlooked but Chrysler pays attention to how these small details impact the design of the vehicle. The base trims have black plastic trim work. As the trim level rises, so too, does the car's luxury. This is clear in the 300C model, where an open-pore wood finish along with nappa leather seats and an analog clock strike a balance between each other.
Drive
How a car drives and handles aren't normally associated with luxury. However, since the 2018 Chrysler 300 represents a luxury American vehicle, the way it drives is luxurious. Its large feel also has its own charm in the way the body rolls and softly heaves during acceleration and braking. Yet, it's also very stable in the way it drives.
Thanks to power electric steering, turns are also easily accomplished. The 300S has a bit more of an edge to it, with a retuned suspension that gives it stiffer springs and quicker turning, and 20-inch Goodyear summer wheels. Pair this with one of the V-8 engine options for a speedy ride that's fun to drive.
Features
One of the most luxurious aspects of the 2018 Chrysler 300 is just how many features come standard starting with the base Touring trim. Every vehicle comes with power front seats, power features, 17-inch wheels, a touch screen infotainment system, USB ports, Apple CarPlay, Android Auto, Bluetooth with audio streaming, and a rearview camera.
Each trim level adds extra features and access to different options like the mobile connectivity package which allows drivers to stream audio from services like Pandora, using mobile data. A Poltrona Frau leather-wrapped dash and a Harman Kardon 19-speaker audio system are also options on select trims.
If you're in search of true American luxury, the Chrysler 300 is it. From its roomy interior, features, fun-to-drive factor, and attention to detail, this flagship vehicle checks all the boxes. Check out our inventory and visit our showroom to see all that the 2018 Chrysler 300 has to offer.
Image vis www.chrysler.com – https://www.chrysler.com/300/gallery.html