Indianapolis' Best Food Trucks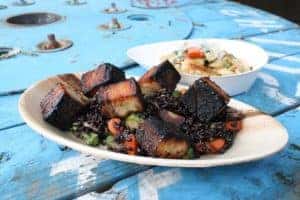 Whether you want pizza, tacos or a sweet treat, there are food trucks cruising all around the streets of Indianapolis. They are easy to find no matter where they park; just check out Twitter or other social network pages to find out where they are. Here are some of the best in the city.
Scratch Truck
The city nominated the Scratch Truck  for having the best burger, and in 2016 it was rated #4 out of the 25 best food trucks in Indianapolis. Enjoy the Scratch Burger with bacon marmalade, arugula, and gorgonzola, or the Scratch Grilled Cheese with red wine braised ribs and caramelized red onions. The truck is often at Riley Hospital, Ellenberger Park, and CNO Financial. Check out their website for the complete schedule.
The Flying Cupcake
If you are in the mood for dessert or a sweet, The Flying Cupcake is where you want to go. All of their desserts are made from scratch and they have two mobile trucks so they are easy to find. The trucks, Petunia and Penelope, don't have a set schedule, but they are often found downtown during lunch. You can also request a stop at your business, so everyone can get a chance to buy cupcakes.
Bronzinni Pizzeria Food Truck
Pizza that tastes like it came from a New York pizzeria is what you'll find at Bronzinni. The truck is a full pizza kitchen on four wheels. The custom-made truck puts out pizza made with the New York signature crust along with many other delicious Italian foods.
Pierogi Love Indy
This truck is the 2016 winner of the best food truck in Indy. It has the best pierogi in the Mid West with many different flavors to choose from. Their specialties include Jalapeno, potato and cheddar, buffalo chicken, and a curry potato. There is even a bananas foster pierogi for dessert. You can often find the truck at 150-198 W. Georgia St.
BEAST
If you are in the mood for a burger, check out the BEAST food truck. Enjoy gourmet hamburgers and their hand-cut fries to go with it. You'll also find a smokey beer cheese dip at BEAST Indy along with weekly specials and a vegetarian option. You can find them on Monday's at 10 Johnson Ave., and at 5547 Bonna Ave. on Wednesdays.
Gaucho's Fire
Authentic Brazilian food is the specialty of this food truck. Here you can have a Brazilian sausage sandwich, beef skewers, or the popular finger food, pastel. Their featured dish is the barbecue or churrasco made with either mutton or beef. The truck is often found at Total Quality Logistics at 8777 Purdue Rd. or at the Holliday Park Clustertruck at 6363 Spring Mill Rd.
These are just a few of the many delicious food truck options in Indianapolis. There is also a pretzel truck, a truck that has Paleo food and even one that caters to vegetarians. Whether you walk downtown to get your lunch or want to drive to catch up with them, these trucks have something for everyone.
Image via Pixabay: https://pixabay.com/en/food-pork-belly-pork-belly-cuisine-1415979/