How to Have the Perfect Day at the Children's Museum of Indianapolis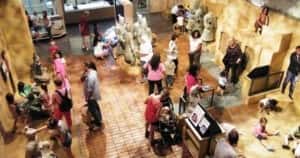 Remove all thoughts of what a children's museum is and be prepared to be delighted. The Children's Museum of Indianapolis offers far more than the imagination can fathom. Often parents leave the museum feeling enriched and happy with their experiences for the day. These experiences are what the museum is all about, and in order to have the perfect day, the following activities are recommended.
Get Lost in a Magical World of Delightful Collections
This is one toy box any child would want to get lost in. The museum offers exhibitions that include over 120,000 artifacts over a period of more than 80 years. Not only are these a feast for the eyes, but many of them also carry stories that will inspire and delight. The collection is broken up into three divisions: the American Collection, Natural Science Collection, and World Cultures Collection.
Get Involved in Community Initiatives
There is a saying about a village raising a child, and the museum holds firm to that. The community initiatives allow children from all walks of life to come together to learn and play. Some of the initiatives children can get involved in, include the Afterschool Explorers, Community Programs, Mid-North Initiatives, and StarPoint Camp.
Host an Event at the Museum
Those who simply can't let go of the delights of childhood and wish to lavish this on their guests can host their event at the museum. The museum can host up to 6,000 guests which include anything from a fun birthday party to a magical soirée. Guests have access to renowned chefs and party planners for the perfect event.
Discover Incredible Exhibits and Wonderful Themes
Apart from having a toy collection that would make Richie Rich envious, the museum also prides itself in stellar displays and themed events that make a day there a magical and unforgettable one. Children have access to exhibitions, events, and initiatives that include learning about dinosaurs, toys, china, space, behind-the-scenes, culture and history, and science. The availability differs, and guests are recommended to view the online calendar for further information.
Make It A Group Event and Plan Ahead
What is more fun for a child than spending a day surrounded by toys and spectacular exhibits? Sharing this day with friends. Those who wish to purchase bulk tickets should contact the museum for special pricing. However, guests who book their tickets in advance already stand the chance to receive a discount. The online calendar provides guests with the prices and reductions to ensure they receive their discount instantly. Children, seniors, and military veterans also enjoy reduced rates.
Museums are wonderful places for the imagination, and nothing activates it faster for a child than the prospect of toys. A day at the Children's Museum of Indianapolis is undoubtedly a highlight for a child. The best part is that parents get to experience it with their children and will end up having a great time themselves. The museum is for children, however, the whole family benefits.
Image via Flickr by sarahstierch: https://www.flickr.com/photos/sarahvain/5881497542/sizes/l/