Enjoy Some Fresh Fare at One of These 4 Farm-to-Table Restaurants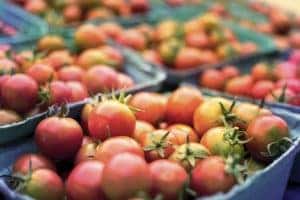 One of the latest trends to hit the culinary scene is using fresh, local ingredients. When locally sourced ingredients are used, it boosts the flavor of meals while also supporting local vendors. If you'd like to experience this food revolution, head to one of the following Indianapolis restaurants to try some of the city's best farm-to-table fare.
Garden Table
With two Indianapolis locations, Garden Table is a great place to grab some locally sourced food paired with cold-pressed juices. All ingredients are hand-chosen from a number of Indianapolis farms and suppliers, including Simply Indiana, Eden Prairie Farm, and Annabelle's Garden. 
The juices here are the star of the show, with selections such as Amped Almond, Hoosier Heater, and Detox Dream. If you're hungry, try the brunch menu, which features healthy items like the garden benedict with mashed avocado toast, poached eggs, and basil hollandaise.
Bluebeard
As a James Beard award semifinalist, Bluebeard offers scratch-made, seasonal cuisine that's perfect for a fancy night out. While the restaurant tries to keep favorite dishes in their rotation, the menu does change daily depending on what local farmers have available. Some dishes you might expect to find are the duck breast tartine, which comes with ratatouille, tomato sauce, arugula, sunflower seeds, parmesan, and semolina, or the rigatoni paired with their butcher shop Bolognese, parmesan, tomato sauce, and basil.
In addition to providing lunch, dinner, and dessert, Bluebeard also curates a stellar wine selection with the help of their house sommelier.
Traders Point Creamery
Traders Point Creamery is a unique establishment, in that it is a farm, creamery, restaurant, and event space all in one. At its restaurant, only fresh and organic foods are used, with many ingredients sourced directly from its own farm. If other items are needed, they come from local, sustainable farms. Traders Point offers full brunch, lunch, and dinner menus, with items rotating seasonally depending on what's available.
For example, at brunch, you can expect biscuits and gravy made with house-ground sausage gravy, or the French toast made of carrot cake batter and topped with brown butter maple syrup and whipped cream.
Café Patachou
When Café Patachou was first established, the owner had one goal in mind — to use all of Indiana's best local ingredients to expertly prepare food. Now, many years later, Café Patachou has six locations throughout the Indianapolis area, has been honored by the James Beard Foundation twice, and was even mentioned in Bon Appétit magazine.
Café Patachou offers numerous tasty breakfast and lunch dishes, including the cauliflower fried rice, gluten-free waffles, and a curried lentil pate sandwich. Don't forget to try a "housemade" dessert to finish off your meal.
Whether you're an avid foodie who is eager to stay local with your diet or a newbie to the scene of farm-to-table fare, these restaurants are some of the best in Indianapolis because of their attention to using only local ingredients. You can't go wrong when you choose to grab your next meal at one of these spots.
Image via Pixabay.com: https://pixabay.com/photos/tomato-healthy-health-produce-2556426/