Best Spots for Skiing in Indiana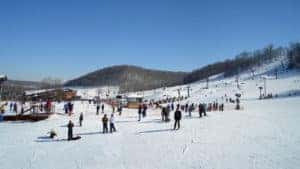 When you think about ski destinations, you may not immediately think of Indiana. However, the Hoosier State has plenty of options for anyone who wants to strap on their skis and hit the slopes. In fact, you may be surprised that some of the facilities that offer skiing in Indiana have rather large setups with multiple lifts and trails in the southern part of the state. Take a look at this list of the best places to ski in Indiana.
Hit the Slopes at Paoli Peaks
Located 50 miles northwest of Louisville, Kentucky, Paoli Peaks Snow Resort in Paoli, Indiana, boasts 65 acres of skiable land. Using high-tech snow guns, the resort can cover all of its ski terrain with 12 inches of snow in a single night. With eight lifts, 15 trails, and a 300-foot vertical drop, even veterans of the slopes will enjoy themselves. In terms of the terrain's difficulty, 25 percent of the surface is rated as ideal for beginners, 55 percent is geared toward intermediate skiers, and 20 percent is designed to challenge advanced skiers.
Anyone who wants to visit Paoli Peaks to brush up on their skills can enroll in ski school. Experienced instructors offer guidance and tips to improve your skiing, regardless of your level. If you're interested in snowboarding, you can learn this winter sport as well by taking private or group lessons.
Even though Paoli Peaks doesn't offer rooms for overnight stays, it does have a large lodge with a first aid station, ticket windows, and a restaurant. There's also an inviting ski bar for guests who are age 21 and older.
Snow Tubing at Paoli
If you get tired of making downhill runs, try snow tubing in one of the 10 lanes covered in snow. When you reach the bottom of the 700-foot hill, a surface carpet conveyer takes you and your tube back to the top.
Take the Family to Perfect North Slopes
Travel an hour and a half southwest of Indianapolis to enjoy the powder at Perfect North Slopes. Choose from 23 trails that cater to beginning, intermediate, and advanced skiers. The longest run is nearly 5,300 feet long, and the tallest vertical rise is 400 feet. At this impressive facility, there are seven lifts, kids' programs, and snowboard lessons. Though you can't stay here overnight, there are nearby accommodations.
Perfect North Slopes also offers snow tubing for those who want a more leisurely activity. A moving sidewalk that's similar to the setup at Paoli Peaks takes you back to the top of the hill. Snow tubing is an activity that folks of all ages can enjoy.
Lessons at Perfect North
Every lift ticket purchase includes one first time ski or snowboard lesson, a great perk for visitors at Perfect North Slopes. The instruction focuses on safety, speed control, and making turns. The 50-minute lesson is available for any skier ages 4 and up. Adults and kids who want to take more lessons have the option to do so either as part of a group or in a one-on-one setting.
Between Paoli Peaks and Perfect North, skiers have two great options for skiing in Indiana.
https://www.flickr.com/photos/sergemelki/3245557441/sizes/l
Image via Flickr by Serge Melki