Best 5 Parks in Indy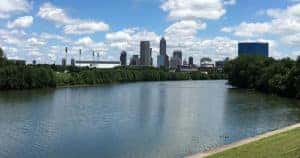 There are many beautiful outdoor parks in the Indianapolis area that are perfect for enjoying the warm spring weather. As the weather starts to heat up, check out some of the best parks Indianapolis has to offer!
White River State Park
This state park is situated on the west side of the city and features over 250 acres of land that include culture, art, and unique entertainment. You will never run out things to do at White River with attractions including the Indiana State Museum, Victory Field, the Indianapolis Zoo, and the IMAX Theater. The park also hosts concerts on the lawn and daily Segway tours throughout the summer months. Many locals come to White River to sit back, relax, and enjoy the beauty of the city.
Holliday Park
Holliday Park is Indianapolis' kid-approved park. It is over 94 acres in size and is home to one of the best playgrounds in the entire city. Children will enjoy the rock climbing wall, the spider's web, and the exploring tunnels. There is also an indoor 13,000-square-foot nature center that is perfect for rainy summer days. Holliday Park also has plenty of recreation available for the adults including over 3.5 miles of serene hiking trails that run along the White River.
Eagle Creek Park
Eagle Creek Park is the ideal outdoor destination for water enthusiasts. While there are over 3,900 acres of outdoor land to explore, there are also 1,400 acres of water to fulfill all of your watersports needs. There is even a dedicated swim area along with Plunge Harbor, the park's water obstacle course setup. Eagle Creek is also a popular rowing lake. Both beginner and advanced rowers are welcome to try out the sport of rowing in Eagle Creek with weekly classes.
Fort Harrison State Park
Fort Harrison State Park is sometimes known by locals as Fort Ben. This name comes from the fact that it shares its location with the historical site of Fort Benjamin Harrison. The park has been open since 1906 and has an on-site golf course and resort. Park visitors enjoy the three hiking tails, horseback riding, and biking opportunities.
Fort Harrison State Park is also a great fishing destination with the local Fall Creek running right through the middle of the park. History buffs will also enjoy the area with the on-site Museum of 20th Century Warfare. This historical attraction offers guests new exhibits every three months.
Mulberry Fields Park
Although Mulberry Fields Park is just a short drive outside of Indianapolis, the available amenities and attractions make it well worth the trip. This 38-acre park might be smaller than nearby parks but it includes three picnic shelters, athletic fields, and a one-mile path that is great for running, biking, and skateboarding. There is also an on-site skate park that that is open during the summer months.
Indianapolis is a great city to explore outdoors this spring. Visit any of these local parks and explore the beauty and entertainment of Indianapolis.
https://www.flickr.com/photos/adstarkel/28085470260/sizes/m
Image via Flickr by adstarkel