6 Coolest Ram Truck Features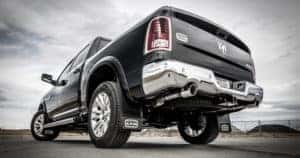 The 2018 Dodge Ram is certainly a powerhouse, offering some of the best torque, horsepower, and towing capacity in its class. While power numbers dominate the allure of the Ram, all of its models offer plenty of interior and exterior extras that make the driving experience comfortable, convenient, and exciting. Here are just a few of the coolest Ram truck features.
In-Floor Storage
If you struggle to find places for all your tools, the Ram has you covered. In crew cab models, the Ram has in-floor storage compartments to keep your tools and gear sorted and organized. You can also put your valuables in these storage units when you're out on the town.
Real Wood Grain
Ram trucks don't have any business with that faux-wood stuff found in lesser vehicles. It's 100 percent real wood grain here. On select trims, you can give the interior of your Ram the appearance of opulence with European-sourced hardwood. It doesn't serve any functional purpose, but it definitely looks cool.
Infotainment Features
With the available Uconnect system, the Ram truck transforms into a full-on entertainment center or your go-anywhere mobile office. Remote vehicle start, vehicle finder, and an enhanced safety and security screen are just a handful of the standard offerings. You can also play music, find directions to your destination, or load your favorite apps. Apple CarPlay and Android Auto are optional, and both allow you to sync your phone directly to the Ram's head unit.
RamBox Cargo Management System
While the in-floor storage is an awesome amenity, you can say goodbye to the toolbox altogether with the RamBox Cargo Management System. This secure, durable, and drainable storage container has more than enough space for all your needs and is well-lit so you can find just what you need even if it's pitch black outside.
Wheel-to-Wheel Sidesteps and Tonneau Cover
If you're vertically challenged, sore after a long day at work, or suffering from physical ailments, the Ram's wheel-to-wheel sidesteps are a godsend. Not only do they make it easier to hop inside the cabin, but they also improve aerodynamics and performance efficiency for a swifter ride and savings on gasoline.
When you aren't using your bed all that often, consider a tonneau cover. Not only does it keep your belongings safe and dry, but it also facilitates air movement over the entire length of the truck.
Cabs and Beds
Ram trucks are some of the most versatile beasts on the road. To make your journey easier or to suit your needs, the Ram offers a crew cab, quad cab, or regular cab. Mix this with bed lengths of 5.8 feet, 6.3 feet, or 8 feet, and you have a pickup that's up for anything.
Whether you want a true workhorse or a versatile truck that rivals the amenities of a luxury car, you can find it all with the 2018 lineup of Ram trucks.
https://www.flickr.com/photos/truckhardware/33744852225/sizes/l
Image via Flickr by truckhardware