5 Things You Can Tow With Your 2016 RAM 3500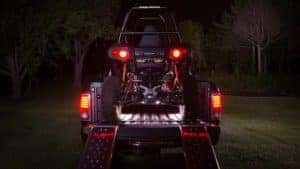 There's not another vehicle on the road, save for an 18-wheeler, that rivals the towing capacity of the 2016 RAM 3500. With one of three monster engines under the hood, the RAM 3500 can pull between 10,780 and 11,910 pounds. While you might have some practical thoughts about what you could pull with this, the best way to imagine this towing capacity is actually by thinking outside the box. Here are just a few outlandish or bizarre things you can tow with the RAM 3500.
1. Three Dodge Darts
The smallest and most economical car in the Dodge lineup isn't the lightest. It weighs in at just over 3,000 pounds. However, if you can find a way to stack them, your RAM 3500 can easily tow three Darts with extra power to spare. You may even want to think about opening a car dealership or one of the country's first independently owned car delivery services.
2. Two Caterpillar Industrial Loaders
If you've never thought about starting your own construction company, you may want to start. Industrial loaders, which resemble a bulldozer and backhoe hybrid, are the perfect machines for moving loads of dirt and weigh in at a whopping 5,000 pounds. With two of them, there's no telling what you can do. You could even start a new competition: an industrial loader demolition derby.
3. A Quarter of the World's Largest Cookie
Perhaps you have a sweet tooth that's so insatiable that absolutely nothing can calm it. If that's the case, the RAM 3500 could haul a sizable portion of the world's largest cookie. In 2013, the Immaculate Baking Company of Flat Rock, North Carolina, produced this culinary masterpiece that weighed in at 40,000 pounds. All you'll need after that is a pool full of milk.
4. Eleven of the World's Biggest Man
So, this is entirely hypothetical, as cloning doesn't yet exist, but think of the possibilities. At one point, Patrick Deuel of Grand Island, Nebraska weighed a scale-busting 1,072 pounds. If you opted for the upper levels of the RAM 3500's towing package, lifting 11 of him wouldn't even cause a problem. Don't worry about Deuel though, he also holds the record for most weight lost after dropping over 570 pounds.
5. Four King Tut Sarcophagi
You don't have to have a degree in Egyptology to have a fascination with this ancient culture. As the most famous ruler of the time, it's only natural that his sarcophagus was made out of solid gold. This made the total weight of the coffin right around 3,000 pounds, or in gold terms, about 43,750 troy ounces. If you could manage to get all four on a trailer, you'd also find yourself about $53,523,312 richer.
In reality, you'll probably never have to tow anything on this list, but it's nice to know that if the chance ever arose to haul any of these items, your Dodge RAM 3500 would do it with little effort. As a last note, if you ever have a friend that needs to haul two white rhinos, you can do that, too.
Image via www.ramtrucks.com: https://www.ramtrucks.com/2017/ram-3500/gallery.html