5 Things to Know About the 2019 Ram Heavy Duty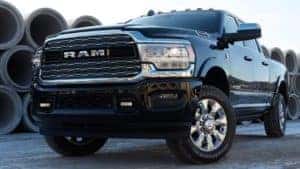 The Ram has been a legendary truck for many years due to its durability, capability, comfortable interior, and aggressive exterior design; thus, it has been popular among many people around the globe. The 2019 Ram Heavy Duty promises exactly the same in addition to many advanced driver assistance systems and technology features. Here are five things you must know about the 2019 Ram Heavy Duty.
Brand-New Exterior Design
The Ram's new exterior design says it all about its powerful engine and amazing performance on the road. Its new grille and LED headlights give it a striking and aggressive appearance, while its LED taillights make it visible in all weather conditions. In addition, the Ram comes with available power running boards for more convenience when entering or exiting its cabin. You can also open and close the Ram's tailgate automatically using its remote control key.
Engine Options
Two engine options are available for the 2019 Ram Heavy Duty: a turbocharged 6.7-liter inline-6 diesel engine and a 6.4-liter V-8 gasoline engine. The diesel engine delivers 370 horsepower and 850 pound-feet of torque, while the gasoline engine delivers 410 horsepower and 429 pound-feet of torque. The diesel engine can tow up to 21,560 pounds, and the gasoline engine can tow up to 17,130 pounds. Obviously, the diesel engine delivers less horsepower than the gasoline engine, but it still delivers more torque, which is why it can tow 4,430 pounds more than the gasoline engine.
Optimum Performance
The 2019 Ram Heavy Duty delivers an amazing performance on the road with either of its optional powerful engines and its well-tuned suspension system. For example, its auto-level rear air suspension can automatically adapt to shifting loads while guaranteeing more interior comfort. Also, you won't have to worry about driving on rough terrain with the Ram's gas-charged Bilstein shock absorbers that help keep the Ram's tires on the ground on any kind of terrain. As for the payload, the Ram can carry up to 4,050 pounds.
Advanced Technology
One of the most useful systems of the 2019 Ram heavy duty is its 360-degree surround view system, which uses five cameras to show all your truck's surroundings. This makes it easier to align your Ram with a trailer at any time. Other advanced systems include a trailer tire pressure monitoring system, active noise cancellation, an available 12-inch touch screen, and a Harman Kardon audio system that has 17 speakers.
Reliable Safety Systems
The 2019 Ram Heavy Duty has many active and passive safety systems that can make you more confident on the road. Its frame is made of high-strength steel that can withstand strong collisions, and its locking differentials can transfer equal torque to all wheels when you're driving on rough terrain. Also, the Ram's available forward collision warning system can automatically brake to avoid unexpected front collisions.
The 2019 Ram Heavy Duty is a reliable and advanced truck you can rely on. In addition, its interior is guaranteed to surprise any of your passengers, and its engine can tow all your stuff to your favorite destination. You can choose your favorite vehicle at Eastgate Chrysler Dodge Jeep.
Image via RAM