5 Reasons the Dodge Durango Is Fun to Drive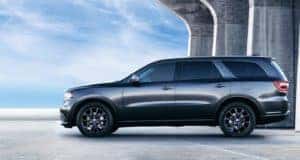 The Dodge Durango is one of the leading large SUVs on the market. Despite its impressive size, the Durango can still be fun to drive. A range of different features gives it a unique performance and comfort profile that many drivers find appealing. If you are interested in a large SUV, then here are 5 reasons the Dodge Durango is fun to drive.
Room for Seven Passengers
The Dodge Durango is large and there is no way to mistake that fact. It is among the largest SUVs available. This gives it the ability to seat a large group of up to seven people with enough room to be comfortable. On top of that, it has ample storage space even when transporting seven people. Few other vehicles on the market can say that it can fit a small sports team with all of their gear at the same time.
Excessive Amounts of Cargo Space
If you are not trying to transport seven people, then you have more than enough cargo space for nearly everything that you need to do. With a full 84.5 cubic feet of space with the seats folded down, it is possible to get nearly any load into the Durango. This makes it easy to transport materials for a job or to get everything to your new home when you are moving. The possibilities are numerous even when you have passengers, since the Durango is filled with hidden compartments that make it easy to get your passengers and their stuff anywhere comfortably.
Available V8 Engine
The Durango comes with a standard V6 engine which provides more than enough power for daily driving. If you are looking for a more powerful option, the Durango has an optional V8 engine. Not only will this improve its performance significantly, but it will also affect how it feels to drive the Durango. The additional power and torque make the Durango more enjoyable to drive.
Integrated Infotainment System
Alongside its performance features, the Durango is outfitted with a range of luxury features. It has an integrated infotainment system that makes it easy to connect different media devices and to control the comfort controls in the Durango. It comes with a standard five-inch screen, but there is also an available 8.4-inch screen for more sophisticated controls and interactions.
Towing Capacity
Regardless of which engine the Durango comes with, it has a strong towing ability. The standard V6 engine can tow an impressive 6,200 pounds, while the V8 can tow up to 7,400lbs. That is enough to tow boats, trailers, and other things with accessories to handle nearly any job that needs to be done with your Durango.
Come test drive the Dodge Durango at Eastgate Chrysler Dodge Jeep Ram. With all of the available features that you could get, it is worth experiencing them firsthand before making a final decision. You'll likely want to test drive several levels of the Durango to see which one is the best fit for you and your family.