5 Must-Have Jeep Accessories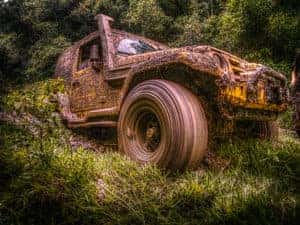 Since the Second World War to the present day, Jeep has been synonymous with versatile, all-terrain vehicles. This iconic American brand managed to build a rock-solid reputation thanks to the reliability, versatility, and overall charm of all its models.
Lately, however, people have been coming up with ways to make their Jeeps even better, both visually and performance-wise. Gone are the days when tuning and accessorizing was reserved only for small Japanese sports cars. Nowadays more and more Jeep owners are looking for ways to turn their cars into ultimate all-terrain vehicles, and manufacturers have come up with some gorgeous and useful accessories.
Rough Country 4-Inch Lift Kit
Being an all-terrain vehicle, the first thing you need to modify on your Jeep is lifting it up so you can fit bigger wheels on it. The lifts provided by Rough Country for Wranglers can lift your car from a discrete 2.5 inches to a massive 6 inches. The optimum lift probably lies somewhere in the middle, and a 4-inch lift can allow you to upgrade to a 33-inch tire.
Interco Super Swamper TSL/Bogger Tires
Speaking of tires, after you've lifted your Jeep the most aggressive ones you can buy, that are also legal to use on public roads, are the Super Swampers. They offer amazing performance in all kinds of off-road surfaces, like sand or mud. They do, however, wear off rather quickly, so it wouldn't be advised to use them as everyday tires if you use the car for normal drives.
Opar Front Matte Black Grille
You'll definitely want your off-road monster to look as aggressive as it drives and the best way to achieve that is the "Gladiator Vader" grille from Opar. It's easy to install and, apart from looking cool, it provides extra protection for the passengers and superior airflow to the car's radiator.
Yitamotor 52" LED Light Bar
Any fan of nighttime off-road driving will tell you that a light bar is an absolute necessity. The double row of LEDs on this one manages 300 watts and an amazing 27,000 lumens of clear, white light to brighten your path. It's also highly resistant to water, so you can rely on it in any environment, and in any season.
ZEON 10-S Recovery Winch
Even if you hope you'll never have to use it, the recovery winch is a vital accessory for any Jeep-owning off-road enthusiast. No matter how well prepared you are to conquer the elements, sometimes Mother Nature manages to win a round. When that happens, you need to get yourself out of there, and the 10,000-pound line-pull rating on this one means you can count on it when the time comes.
All Jeep models that leave the factory floor are amazing vehicles in their own right. Human ingenuity does, however, always find things to improve. You can be sure any of these Jeep accessories will breathe new life into an already great car by making it look, feel, and perform better.
https://www.flickr.com/photos/rvc/8718728017/sizes/l
Image via Flickr by rvcroffi