5 Indianapolis Summer Camps for Kids Your Family Should Check Out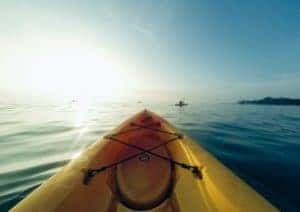 Summer is upon us, and every year it seems harder and harder to come up with inventive ways to keep the kids entertained. Keeping them busy at home can be tricky, even for the most dedicated parental units, so why not send them out into the world? From sailing to creative expression, here are five camps your kids will love this summer break in the Indianapolis, Indiana area.
Indianapolis Sailing Club Summer Camp
What's a better way for the kids to spend the summer months than on the water? Indianapolis Sailing Club Summer Camp is designed to teach new and experienced mariners ages 8 to 17 sailing skills. Your kids will learn the basics of sailing, water safety, the various parts of a sailboat, advanced knot tying, and weather awareness.
Each fun and educational week is designed for kids of all experience levels, including complete newbies. Register your little sailors today on the company's website. Located at 11325 Fall Creek Rd., weekly sessions run from June 5 through 7 to July 15 through 19.
Adventure Camp at Conner Prairie
Get ready for an adventure-filled summer at Conner Prairie. Located at 13400 Allisonville Rd. in nearby Fishers, Indiana, this camp offers a ton of outdoor activities including swimming, canoeing, and fishing. There's a backyard zip line, horse riding, and crafts. Go hiking, try out the challenge course, and shoot archery at this action-packed summer fun center.
Join in with Conner Prairie's Specialty Camp programs hosted by well-trained, skilled staff. Activities vary by camp in a unique environment and include camps such as art camp, science camp for girls and boys, archeology camp, and photography camp. Regular sessions take place May 28 through August 2, while specialty camps are hosted June 3 through July 26.
Butler Community Arts School
Explore the performing arts at the Butler Community Arts School at 4600 Sunset Avenue. Butler students will enjoy guitar camp June 24 through 28 and strings, piano, and art camps July 15 through 19. You don't need experience to join the art camps, where kids will explore dance, music, theatre, and visual art.
Starting Line Preschool
Even your toddlers will enjoy camp this summer at Starting Line Preschool at 110 3rd Ave NE, in Carmel. Kids ages 2 through 5 are invited to the center Monday through Thursday from 9 a.m. to 1 p.m., June 10 through August 5. Each week features a new exciting theme with complementary activities.
Indy STEM Camps
Indy STEM Camps strive to create innovative and engaging experiences that help children develop problem-solving skills. The best kind of education occurs when you don't realize that learning is going on. This is why Indy's STEM camps are designed around creating a fun student-focused atmosphere. Located at 9350 Windrift Way in Zionsville, camp dates are available in June and July.
Whether it's an exhilarating outdoor experience or a chance to learn something incredible, there's a camp to keep your kids entertained in Indy this summer. Which one sounds fun to your family?
Image via pixabay: https://pixabay.com/photos/kayak-adventure-discover-water-row-846078/