5 Hot New Restaurants in Indianapolis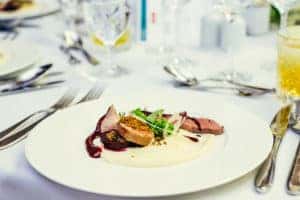 Indianapolis is home to a variety of exceptional restaurants that will satisfy any type of eater. Whether you choose a modern American steakhouse or cuisine with an international influence, there's something for everyone in the Indianapolis area, so make a reservation today to experience an enjoyable and memorable meal with family and friends. Try one of our favorite hot new restaurants in Indianapolis for your next evening out.
Nesso Coastal Italia
Nesso Coastal Italia is located in the Alexander Hotel in downtown Indianapolis. Nesso blends Italian coastal cuisine with fresh, local produce. The menu at Nesso includes seafood, local meats and vegetables, pasta, and other dishes created by the Nesso chefs. Nesso Coastal Italia is open from 4 p.m. to 11 p.m. Monday through Thursday and 4 p.m. to midnight Friday and Saturday. The restaurant is closed on Sunday.
Beholder
Located on East 10th Street on the northeast side, Beholder is most certainly a one-of-a-kind restaurant. Beholder offers guests a unique menu of assorted vegetables, meats, dessert, and wine. The dishes at Beholder are creations that you won't find anywhere else. Beholder is open from 5 p.m. to 10 p.m. Monday through Thursday and 5 p.m. to 11 p.m. Friday and Saturday. Beholder is closed on Sunday.
Anthony's Chophouse
Anthony's Chophouse in Carmel features a menu consisting of mouth-watering appetizers, soups, salads, meats, seafood, sides, a separate children's menu, and desserts, there is truly something for everyone here. Anthony's Chophouse is open for lunch from 11 a.m. to 2 p.m. Monday through Friday. The restaurant opens for dinner from 4:30 p.m. to 10 p.m. Monday through Saturday and 4:30 p.m. to 9 p.m. on Sunday.
Provision Restaurant
Provision Restaurant on the far north side provides guests with an exquisite fine-dining experience. The menu contains local products and locally grown produce and includes a range of meats, seafood, salads, sides, desserts, and an extensive wine list. Provision Restaurant is open from 4 p.m. to 10 p.m. Monday through Thursday, 4 p.m. to 11 p.m. Friday and Saturday, and 4 p.m. to 9 p.m. Sunday.
Ukiyo
Located in the Meridian-Kessler neighborhood, Ukiyo gives guests the ultimate Asian dining experience. Ukiyo uses seasonal produce and fish in peak season, and as such, the menu is always changing. The menu consists of soups, salads, ramen, rice, meats, sushi, and seafood, so even the pickiest eater will be able to find something that they'll love. Ukiyo is open from 11 a.m. to 10 p.m. Tuesday through Saturday and 11 a.m. to 8 p.m. Sunday.
Any of these restaurants will provide you with an unforgettable dinner out. With cuisine inspired by cultures from around the world, Indianapolis, with its nickname the Crossroads of America, is the perfect area to branch out and try a new type of food that you normally wouldn't. Enjoy exploring the original, delicious cuisine offered in the Circle City.
https://www.flickr.com/photos/janitors/24511654608/sizes/l
Image via Flickr by Janitors