5 Hot Concerts and Shows You Should See This Year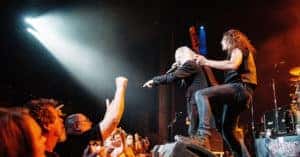 Going to a concert is a really exciting way to have fun with a family member or a friend. Whether you see a local band or a well-known rock star, most people love going to see a concert. Here are some hot concerts and shows in Indianapolis you should consider seeing this year.
Andy Grammer – "The Good Parts Tour"
Andy Grammer will be performing at the Old National Centre on Friday, March 30, 2018, at 8 p.m. as part of his "The Good Parts Tour." Tickets are $26 and are for general admission. Andy Grammer sings the popular "Honey, I'm Good," which was a best selling song of 2015. You can enjoy drink specials that include Miller, Coors, and Jack Daniels products. 
"Jay and Silent Bob Get Old"
On Wednesday, April 11, 2018, at 8 p.m. Jay and Silent Bob are back with their "Jay and Silent Bob Get Old" show in the Egyptian Room at the Old National Centre. It is a show hosted by Kevin Smith and Jason Mewes (known for their roles as Jay and Silent Bob in movies such as "Jay and Silent Bob Strike Back" and "Clerks"). It is based on their weekly podcast, where Jason Mewes discusses his sexual adventures and drug addictions. Tickets are $49.50.
Papa Roach – "Crooked Teeth World Tour"
Radio station ALT 103.3, Live Nation, and Dahlia Presents is hosting the rock band Papa Roach at the Old National Centre on Sunday, April 22, 2018, at 7 p.m. Tickets are standing room only and cost $38. Papa Roach is known for their songs "Last Resort" and "She Loves Me Not." The band has been performing together since 1993, when they joined together in Vacaville, California.
"Wicked"
The touring version of the hit Broadway musical "Wicked" across many dates that range from April 25, 2018, to May 13, 2018. Tickets start at $72 to see the show. The musical explores the life of the wicked witch Elphaba before Dorothy came to Oz in the Wizard of Oz. It is a Tony Award-winning musical that is as inspiring as it is captivating with beautiful music and scenery. The musical explores themes of what it means to do the right thing and being an outcast.
"The Juke Box Heroes Tour"
If you love classic rock, you do not want to miss "The Juke Box Heroes Tour" as it makes its way through Indiana. It stops at the Klipsch Music Center on Friday, July 13, 2018. The headlining act is British rock band Foreigner, with top hits you'll definitely recognize including "Hot Blooded," "I Want to Know What Love Is," and "Head Games." Foreigner is one of the world's best selling bands of all time. Whitesnake and Jason Bonham's Led Zeppelin Evening will also be there.
With so many popular concerts and shows to choose from, it can be tough to decide which ones to get tickets for. Depending on your budget and preferences, it might be worth seeing them all. As legendary artists like Aerosmith, Lynyrd Skynyrd, Ozzy Osbourne, and Elton John announce their farewell tours, we are reminded that there isn't always going to be another time to see them in the future.
https://www.flickr.com/photos/jessucka/22019350951/sizes/l
Image via Flickr by Jessica_Branstetter