4 Tips for Better Tailgating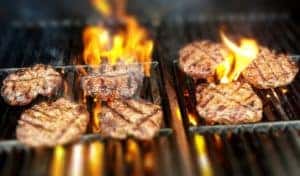 Tailgating is a beloved American tradition. Back in 1869, spectators served picnic lunches from their horse-drawn carriages at the first college football game, Princeton vs. Rutgers. Modern tailgaters host elaborate parties, and they might even spend the game entertaining friends and fellow fans from their parking space. Here are some tips to help you make your tailgate party unforgettable.
1. Consider Regulations and Resources
Check the stadium website for the rules on tailgating before you plan your menu and guest list. These regulations can change from year to year. You should also think about the supplies you have. Hosting a big party could be difficult with just a portable grill. You can do most of your barbecuing at home and then bring it to the party for reheating.
With a larger vehicle like the 2016 Dodge Ram, you'll have room for a full-sized grill. The Ram also has folding rear seats, storage space under the floors, bins in the doors for small items, and optional compartments in the bed rails.
2. Prepare Essential Supplies
Make a list of everything you need and prepare as much as you can in advance. Buy duplicates of grilling equipment like tongs and grill gloves so you won't have to use items from home every time you tailgate. Store them in a small toolbox or a clear plastic bin to make getting ready for the party easier. You'll also need folding chairs, tables, and a tent or canopy for shade.
Visit a restaurant supply store for disposable foil pans to help you transport and reheat foods. You should also bring plastic plates, forks, and cups. Plastic cups are great for storing or serving toppings for burgers or foods like chili. Don't forget garbage bags for trash and take-out containers for leftovers. Pack the items you'll need first in the back of your truck for easy access.
3. Keep Safety in Mind
Keep a small first-aid kit in your truck in case of burns from the grill or other injuries. You should also carry jumper cables. It's easy to end up with a dead battery when people are constantly opening your doors for supplies. A guest could leave a door open by accident. Put frozen water bottles in your coolers instead of ice so everyone can stay hydrated by drinking them when they melt. Make sure you bring enough water to put out the coals in your grill before you leave.
4. Make Things Fun
Decorate your coolers with your team colors and make a fun banner to support your team. You can even make Jell-O shots in your team colors. Use small plastic containers meant for ketchup or salad dressing. You can also make cupcakes with icing in your team colors. S'mores are another easy fun tailgating dessert. Everyone can just roast their marshmallows over the grill.
Tailgating makes watching a game with friends even more fun. With a little effort, you can look like a tailgating expert even if it's your first time at a big game.
Image via Pixabay: https://pixabay.com/en/burgers-fire-grill-grilling-1839090/