4 Indy Sports Bars to Watch Your Favorite Team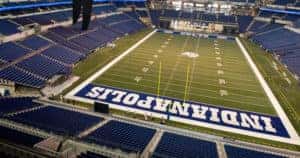 Indianapolis is perhaps the most underrated sports market in the country, but sports fans here are some of the best. The Colts, Pacers, and car racing are just a few of the favorites in town, but no matter what your favorite team is, you're sure to find a place to watch the game, enjoy the company of others, and consume great food and ice-cold beer. Here are just a few of the best spots.
Ale Emporium
Open at 11 a.m. every day and serving until the wee hours of the morning, the Ale Emporium is an awesome place to go to see your team. With 12 projection screens and 80 flat-screen televisions, there isn't a bad seat in the house, whether you want to take a seat at the bar or pounce on a table. During the game, choose from 65 beers on tap, 100 bottled beers, and 20 canned beers from foreign, domestic, and local brewers. Top it off with a burger, sandwich, and the world-famous Hermanaki wings.
Chatham Tap
Voted by GQ Magazine as one of the best spots to watch soccer in the country, Chatham Tap is the quintessential spot for European football and World Cup action. Based off European-style pubs, Chatham Tap has dozens of bottled beers and beers on tap that taste a bit better when you're up at 7 a.m. for a Premier League game.
You'll run into plenty of fans that are more than willing to talk about the table, results from the week, the transfer window, and Champions League. Stake yourself out a place up at the bar, order a pint and a sarnie, and enjoy the atmosphere.
Stacked Pickle
With eight locations throughout the Indianapolis area, you're never too far from Stacked Pickle. Founded and owned by former Colts player Gary Brackett, Stacked Pickle is all about sports and the game day experience. Dozens of flat-screens, several 50-inch screen televisions, and a 92-inch projection screen allow you to see the game in crystal-clear clarity so you can always play armchair quarterback no matter where you're seated.
You'll want to try the fried pickles as your starter, but after that, choose from classic sports fare such as burgers, tacos, nachos, and chicken wings.
Kilroy's Bar N' Grill
Kilroy's has two locations in Indy, and each is the ideal bar to watch the sport of your choice. Dozens of televisions line the dining room and the bar, so you don't have to stand to find a watching spot. They have drink specials every day, and beers are always affordable. The Long Island iced teas are fun and flavorful to boot, but no trip to Kilroy's is complete without the stuffed breadsticks. Packed with mozzarella and cheese, these breadsticks are your greatest ally during the game or solace after a loss.
When you're in the mood to knock back a few brews, eat delicious food, and watch the big game, don't do it at home. Instead, head out to one of these bars and catch the game with hundreds of your closest friends.
https://www.flickr.com/photos/hyku/2867724609/sizes/l
Image via Flickr by hyku