4 Brunch Restaurants in Indianapolis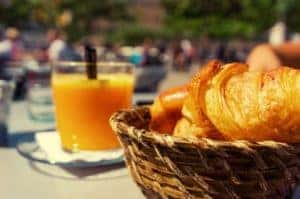 If you and your friends or family love to do brunch, you have plenty of options in the Indianapolis region. A wide range of local and chain restaurants provide mouth-watering breakfast dishes and variations on brunch classics. Whether you want a no-frills meal or a foodie-pleasing dining experience, Indianapolis has a variety of eateries serving brunch. Take a look at these four restaurants.
1. Savor Local Ingredients in Dishes at Café Patachou
There's a reason Bon Appétit magazine listed Café Patachou as one of its 10 favorite breakfast spots in the United States. Brunch consists of a robust menu offering dishes made from local ingredients when possible. Check out the vegan granola with walnuts and pistachios, apple fritter cinnamon "French" toast, and croissant French toast. The menu also includes a selection of omelets and salads. Known for being casual and kid-friendly, Café Patachou has a kids' menu that includes green eggs and ham, waffles, and a peanut butter and jelly sandwich.
For drinks, browse the list of mimosas, the quintessential brunch drink, and other cocktails. You can also order beer, juice, soda, or a smoothie.
2. Indulge Your Inner Foodie at Milktooth
Casual and modern, Milktooth is a foodie haven that's attracting attention well beyond Indianapolis. With its laid-back atmosphere in a building that used to be a car garage, this is the place to see and be seen on the weekends. Brunch includes menu items such as the local berry Dutch baby pancake with cucumber curd, powdered sugar, and cashews. Satisfy your sweet tooth with a sourdough pearl sugar waffle topped with salted butter, local nectarines, and maple syrup. Beer, bubbly, and brewed coffee complement your meal. If you're looking for a hipster brunch spot with exceptional food, Milktooth is it.
3. Taste the Best Biscuits and Gravy at Love Handle
It's the delicious mushroom gravy over homemade biscuits that cements Love Handle's reputation as a top brunch spot in Indianapolis. This downtown eatery is a laid-back and friendly place to eat brunch. If you don't want to order the biscuits and gravy, try one of the breakfast sandwiches. The sandwich offerings change daily, meaning you just have to go back to try the chef's newest creations. For those who like non-breakfast foods during brunch, Love Handle also offers a variety of traditional sandwiches and soups.
4. Choose Sweet or Savory at Hoaglin To Go Café and Marketplace
If you go to Hoaglin To Go Café and Marketplace for brunch, you only need to know three words: red velvet pancakes. Topped with a dusting of powdered sugar and a healthy scoop of cream cheese frosting, the red velvet pancakes have chocolate chips baked in. Sound too rich and sweet for brunch? This elegant but unpretentious eatery also offers an array of savory breakfast dishes. Quiche of the day, eggs Benedict, biscuits and gravy, and omelets provide another option for those who don't want pancakes.
Whether you want traditional favorites or new takes on the classics, you can find mind-blowing dishes for brunch in Indianapolis.
Image via Pixabay: https://pixabay.com/en/breakfast-croissants-basket-498480/