3 Tips to Get Your Tires Shining Like New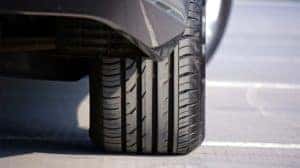 Maybe you've bought a new car and you're wondering how to keep the tires looking newer longer. Or maybe you're driving an older car and want to know how to make the tires and wheels look new again. Let's discuss some tips and tricks to get those tires shining.
Give Those Tires a Rinse
The first step to shiny wheels and tires is to rinse off stuck or heavy dirt with a hose. If a hose isn't around, you can always go to a nearby car wash and use hoses they provide. Try using a fire hose nozzle to deliver the strongest stream of water as possible. The stronger the stream of water, the easier it will be to tackle those tough dirt spots.
Use Tire Cleaner
After you've rinsed off any caked-on dirt, spray your tires with any cleaner you can get from the store that's specifically designed for rubber tires. You can also make your own cleaning solution by mixing a few drops of dish soap with water in a spray bottle. Make sure to cover the entire surface of the tire with the solution. You can also purchase cleaners designed for both tires and wheels, but make sure that the cleaner is intended for both applications before you use it. You do not want to get tire cleaner on your wheels. Also, try to avoid getting the cleaner on your car's paint.
Once you've thoroughly applied the cleaner, you'll want to use a brush with hard bristles to rub the cleaner into the tires and loosen any dirt and grime. For the wheels, you'll want to use a soft-bristled brush to loosen brake dust without scratching the wheel finish. Make sure to rinse off the brushes while using them. After you've brushed the tires and wheels, you'll need to thoroughly wipe them down with a dry microfiber towel. This will get rid of any excess cleaner and remaining grime and brake dust. You'll also want to make sure the wheels are completely dry so they aren't spotty.
Apply a Tire Dressing
Once the tires have been cleaned and dried, you'll want to apply a water-based tire dressing with UV protectant. UV protectors help prevent sun damage, which can cause your tires to fade. To really get your tires shining like new, make sure the tire dressing is a slick or shiny finish. After you make sure that your tires are dry, you can apply the tire dressing with a sponge. Make sure to read the tire dressing label to see if there are specific application instructions.
After you've applied the tire dressing, make sure to wipe down the tire rims with a microfiber cloth. Excess tire dressing could cause damage to the rims. Allow the tire dressing to thoroughly dry before driving your car or else the dressing may not stick. Most tire dressing dries within five to 10 minutes, but check the label to make sure.
By sticking to these tips and establishing a cleaning routine, you'll have shiny newer-looking tires that you'll enjoy driving around on.
Image via pixabay.com: https://pixabay.com/photos/tyre-wheel-tire-car-automobile-1714669/