3 Reasons to Love the 2017 Jeep Wrangler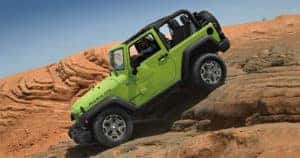 Every year, thousands of outdoor enthusiasts look for a new vehicle that can make camping, boating, and off-roading more enjoyable. There is an entire segment of the auto industry that is devoted to this, and there are a lot of cars to choose from. The Jeep Wrangler consistently stands out among them for a variety of reasons. You can take advantage of the benefits of owning your own Jeep Wrangler with some of the latest features and design improvements. If you like to do things outdoors, then here are three reasons to love the 2017 Jeep Wrangler.
You Can Go Anywhere
One of the biggest benefits of the 2017 Jeep Wrangler is that it can go almost anywhere. Secluded areas that were nearly impossible to reach with other vehicles are reachable by a Jeep Wrangler. That is because it has the systems that you need to handle nearly any type of terrain. The Rock-Trac 4×4 system is great for areas where you need to crawl over obstacles. Normally, most cars would struggle to handle uneven terrain because their wheels would lose traction and spin out. The Rock-Trac system sends power to each of the wheels independently so that they apply just enough force to climb over obstacles without spinning out.
Wranglers are Customizable
Another great feature of the Jeep Wrangler is that it is easily customizable. Many Wrangler owners like to change different aspects of their cars, like removing the doors or getting a soft top. Thanks to Jeep's engineering efforts and a range of aftermarket options, you can make the Wrangler exactly as you want it. Modifications like removing the doors are easy since Jeep listened to its customers and engineered the Wrangler with exposed hinges. You can also add flood lights, engine snorkels, and other aftermarket parts to make your Jeep exactly what you want it to be.
Improved Comfort Designs
Off-roading can be a bit rough, but the Jeep Wrangler is outfitted with many of the features that make it more enjoyable. It has the updated UConnect system that allows you to have a deeper level of control over your driving and entertainment options. With the integrated Bluetooth technology, you can listen to music or videos from nearly any media source including your smartphone. The Wrangler also has redesigned seats with more padding to make them more comfortable. You can remove the side and roof panels easily so that you can enjoy the open air as you explore the wilderness.
The 2017 Jeep Wrangler is a great option if you are looking for a vehicle that can handle nearly any outdoor activity that you want to do. There are still plenty of 2017 versions available with a wide range of trim levels and customizations that can make yours unique. Visit Eastgate Chrysler Dodge Jeep Ram to experience all that the 2017 Jeep Wrangler can offer you. You'll see quickly how the Jeep Wrangler can make your outdoor fun and travel more enjoyable over the coming years.
Image Via www.jeep.com